How to recover a Soft Bricked Android [ ODIN Method ]
Hello all Android peps, flash-o-holics, custom rom runners ! the bad side of android is that there is very less security and assurance of smooth working of your device. That's why some people never go for modding their droids. But such things shouldn't stop us from exploring deep into the world of roms and mods.
Every mod or a custom rom  always comes up with a precaution or warning page or warning section which is essentially necessary to be read before trying out any thing new.Now coming to the word Soft Brick.
Soft brick is a typical type of device state in which you only get to enter certain modes of your device. In a soft brick , you can only put the phone in download mode. Sometimes if lucky enough,you can also get into recovery mode. Soft bricks are common in Samsung Galaxy Series. And there is a n easy method to unbrick them.
WHAT IS SOFT BRICK
Soft brick terms apply if your phone has certain problems. Soft brick usually occurs after installing the custom rom or you are wrong in doing something that is not appropriate install [not compatible] with each phone.
SOFT BRICK CHARACTERISTICS
Phone stuck on vendor logo.
Phone stuck on a logo "boot animation"
Can't reboot normally
Can't get the device into recovery mode
Can get the device into download mode only
Cant charge the device or cannot be detected in pc normally without 3rd party software
ODIN Flash fails every time ( when just flashing with PDA file )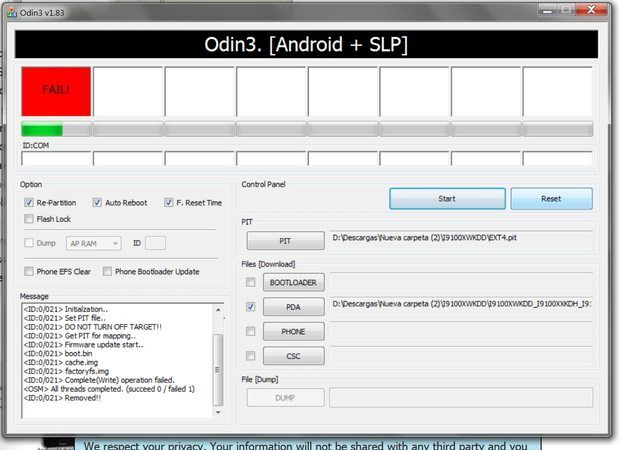 SOFTBRICKED AFTER INSTALL CUSTOM ROM
Rom used does not match the type phone.
Google Apps is not installed after finishing the installation of rom.
Rom does not match with the installed kernel that you use. Actually there are 2 types of rom stock  rom  kernel and custom kernel rom . Stock rom is for those who the bootloader still locked. Custom kernel rom for their that already have unlocked bootloader and flash the kernel.
Not do a full wipe / wipe data / factory reset and wipe cache after flash rom will also cause softbricked experience.
Did not follow the install directions carefully.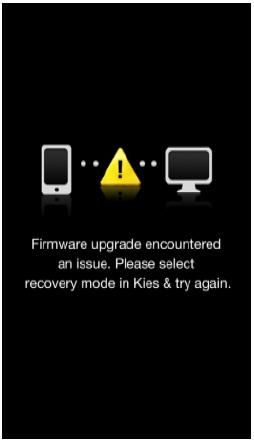 Solution :
Follow these steps to unbrick your device
Note :  this tutorial / solution is only applicable if you are able to flash your device via ODIN . Most of the samsung galaxy models are been able to flash via ODIN.
1. Download the stock firmware of your phone ( be exact in model number )
2. Most Samsung firmwares are available here
3. Download those firmwares which contain .pit file which plays a vital role here.
4.Download Odin from here : Odin3_v1.85

5.Extract the contents of odin-185.zip 
6.Put your device into Download Mode ( Volume Up key + Home key + Power key ):
Connect the USB cable to your PC, but NOT your device.
Remove the battery.
Reinsert the battery.
Hold down Volume Up and Volume Down keys.
Insert the USB cable into your device.
7.You should now be at Download Mode. Click Start in Odin.
6.Run Odin3+v1.85.exe, and prepare Odin:
Check "auto-reboot", and uncheck 

all other options

.

Click PDA and select the TAR you downloaded.

Tap the 

Phone 

button and choose the file named 

'MODEM'

. Ignore this step if such file is missing.

Hit the 

CSC 

button and choose the file named 

'CSC'

. Ignore this step if such file is absent.

Click the 

PIT 

button and choose the 

.pit 

file.

If  there is no such .pit file, please find another firmware which contains a .pit file.
In ODIN, enable Auto Reboot and F. Reset Time options. In case of the Re-Partition option, check it ONLY if you chose a .pit file in the previous step.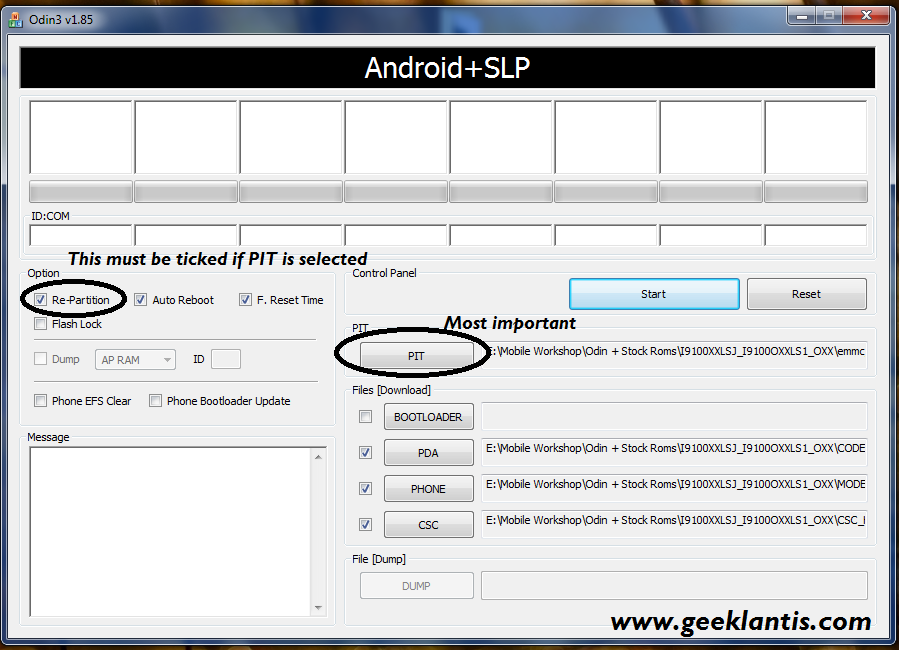 7.Choose the files to be flashed or installed on your phone, which can be found among the extracted firmware files which you downloaded previously.
8.Click the Start button in ODIN and the firmware installation process will begin. It may take a few minutes to complete.
That's it! Your device will autoreboot, and your phone should be working properly again.
If any problem occurs,or you are still not able to unbrick your device, then leave a comment below. We will reach out for you as soon as possible.
Related posts: